Playful literacy development
How to enhance children's learning and engagement
Literacy development has always been a challenge, especially for teachers who respect children's need to play. On one hand, we know how important it is for children to be engaged in the formal education systems where they have to learn how to read and write and on the other hand, we know the importance of playful learning and wholistic development for children. The challenge is in combining these too in such important topics like literacy which seem serious as well.
In this talk, Elena Soboleva will focus on key characteristics of literacy development in the early years (3-8 years old) and what implications they have for lesson planning while also focusing on engaging children in a playful way in the process of teaching and learning. Elena will share some tips and activities to enhance children's learning and engagement and will help you plan more practical, playful and engaging lessons.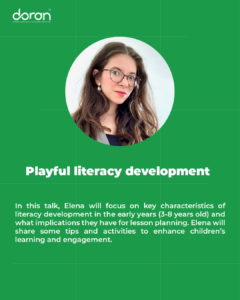 Who is Elena Soboleva?
Here is a summary of Elena's education and experiences:
– Early childhood educator and teacher trainer
Director of Studies
Cambridge YLE examiner
Studied linguistics in Moscow, English philology in Barcelona, and alternative education in the Netherlands
Holds Cambridge CELTA, CELTYL, DELTA
Interested in early years education, literacy development, picturebooks
Sunday, 11th April
14:00-15:30 GMT
Course fee: 12 CAD
The session will be recorded and saved for a week. 

The session will be available with Arabic, Russian and Chinese subtitles after 2 weeks. 
To register, please email: